I hadn't ever thought about making screen-printed interiors stuff as I didn't want to print tea-towels or make cushions, but then I started drawing . . .
Swedish Grandfather Clock
Screen printed by hand onto white linen this is a full-size grandfather clock. It is 182cms/80inches tall and 38cms/15inches wide at it's widest point.
I'll print six of these and am working on drawings of a classic english grandfather clock too.
Swedish Grandfather Clock – £120
Sunburst Clock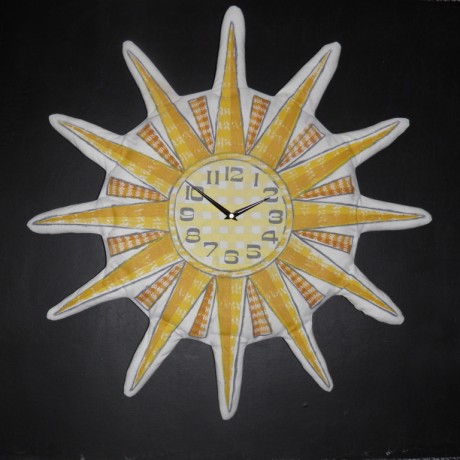 Again this clock is full size, 60cms/24inches by 60cms/24inches, printed onto white linen.
Although I researched and illustrated traditional sunburst clocks I used some knitting I'd put onto a  screen to print all the colour areas.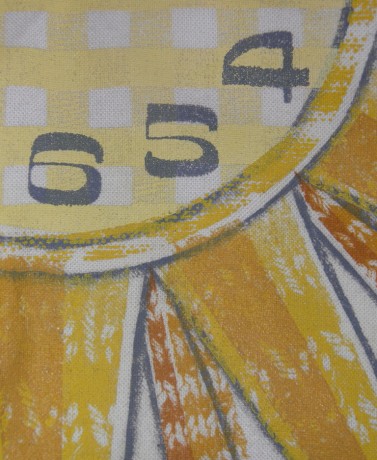 I'll print 12 of these and am drawing a further range of iconic wall clocks at the moment.
Sunburst Wall Clock – £100
Coffee Pot Cover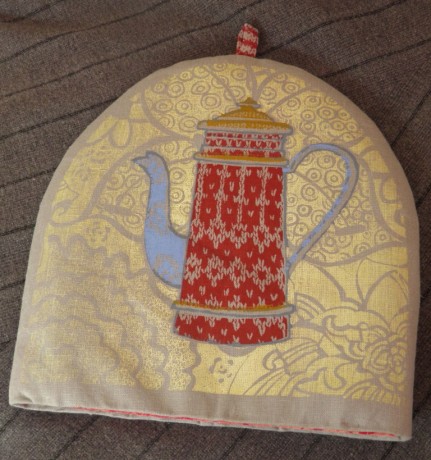 I printed this illustration of a beautiful old enamel coffee pot as I love them but use a cafetiere.
A coffee pot cover seemed more useful to me than a tea cosie as I'm afraid I make tea in a mug unless there are enough people about to use up a full pot, whereas I frequently have to throw away the last mug of coffee from a pot because it's cold.
The Coffee Pot Cover is printed onto grey linen, with a wadding infill and lining of red  cotton printed with my large flower doodle pattern.
I'll print 12 of these.
Coffee Pot Cover – £30
For the knitted pattern here, and on various of the things I make, I knitted up some samples and then exposed the knitting onto a screen.