When I had to make some of my illustrations into models for animation the penny dropped that creating characters and making things, two constant daily activities, could combine!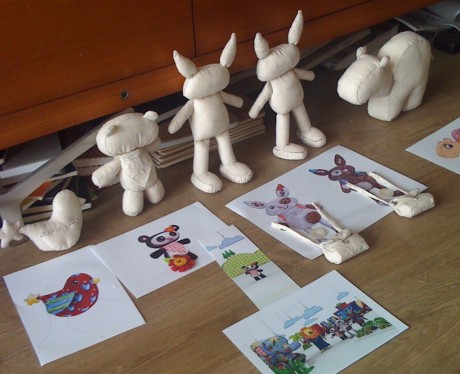 Screen printing patterns I doodle onto quick drawings of characters led to . . .
haPcreeCHAs
Each haPcreeCHA is approx 25cm/10inches high. There will be 102 in total of which there are 17 different characters. Each character appears 6 times in two different colours.
Every haPcreeCHA has a number patch and once you receive your haPcreeCHA you can go to the haPcreeCHA website and name your haPcreeCHA, post photos of their adventures and meet your matching haPcreeCHAs!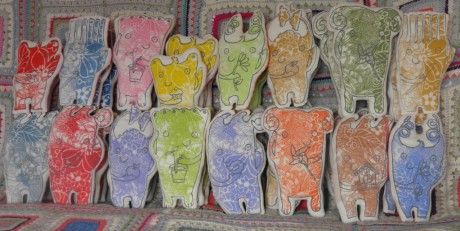 haPcreeCHA – £15 (the one you get will be a surprise!)
"easy tiger" & "sleepy sheepy"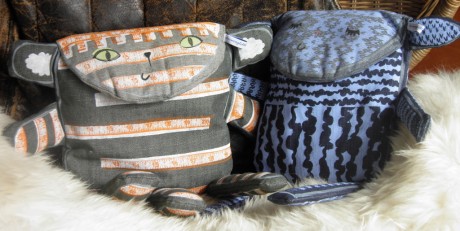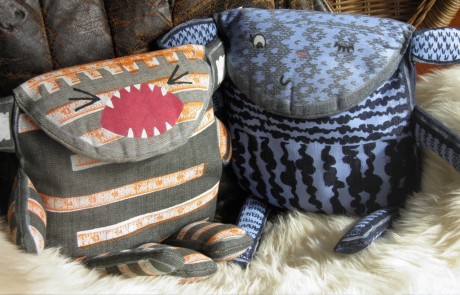 These are screen-printed onto denim and are approx 40cm/16inches tall. I'll be printing a total of 12 of each.
Each character has two-sides! "easy tiger" happy one side and then, if things aren't going well, very shouty on the other. "sleepy sheepy" has one eye open on one side, just managing to stay awake to hear one more story, then asleep on the other.
"easy tiger" – £40
"sleepy sheepy" – £40
bunnies, bears, birdies, oh deer!
This is "funny bunnie" the first of a range of characters screen-printed onto white linen.
She is approx 50cm/20inches tall and I'll be printing six with orange dresses and six with red dresses.
"funny bunnie" – £60
In development are "be my bear", "itty-bitty birdie" and "oh deer"!